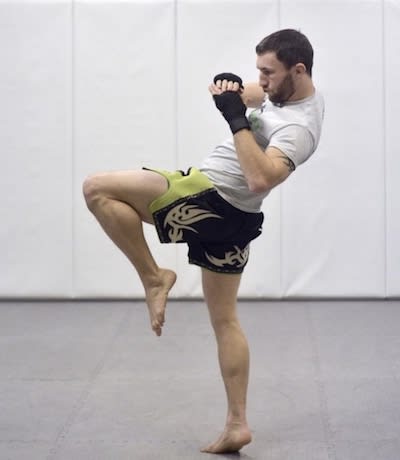 Len Cook
Len Cook was born in Abingdon, Virginia and began training in the art of Kung Fu at the age of 5. He continued training on and off through high school when he got his first taste of full-contact Kickboxing - and loved it!
Len maintained his traditional martial arts training for a while but quickly realized that he wanted more of the real deal. That's when he discovered the sport of Mixed Martial Arts.
In 2008 Len found his first MMA school and signed up, marking the beginning of his career as a fighter. After just a few fights, he decided that MMA fighting was what he wanted to do for the rest of his life, so he found a job making much less money but offered a better schedule for his training. He moved close to the gym and hit the ground running.
Len climbed his way up the ranks and quickly claimed 2 bantamweight titles. In 2011, he won the ISKA southeastern region title, earning the rank number 1 bantamweight fighter in the southeast region.
Len had achieved his goal of professional fighting. But he was also pretty burned out with competition.
As a competitor, Len took on some instruction and 1-on-1 teaching opportunities and really began to love the process. He taught Kickboxing classes while earning his CrossFit and USAW Sports Performance Certification.
He found that he loved teaching people and helping people achieve their fitness goals so he decided to take some time off from competing and spend more time coaching.
For the next 3 years, Len dedicated all of his spare time to teaching Kickboxing, Group Fitness, and Personal Training. He was managing a local store at the time and decided to act on his new passion for teaching. He and his wife opened Champion Striking together in September of 2016.
He has since taken up competing again but now pursues Muay Thai as his sport of choice rather than MMA.
Len feels truly blessed to have the opportunity to spend his days working with so many great people. It is truly a dream come true!
Here's a list of Len's professional achievements:
Professional MMA and Muay Thai Fighter
21 Career Fights
ISKA South East region Bantamweight Champion
X- series Bantamweight Champion
Fought on national Television
Certified USAW sports performance coach
Certified Personal Trainer
Over 15 years Martial Arts experience
Was the number 1 ranked Bantamweight Fighter in TN - 2011